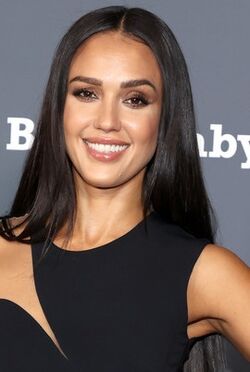 Jessica Alba portrayed Sue Storm/Invisible Woman in Fantastic Four and Fantastic Four: Rise of the Silver Surfer.
Significant roles
Maya Graham in Flipper (1995-1997)
Kirsten in Never Been Kissed (1999)
Chloe in Paranoid (2000)
Honey Daniels in Honey (2003)
Nancy Callahan in Sin City (2005)
Sam in Into the Blue (2005)
Liz Anne Blazer in The Ten (2007)
Cam Wexler in Good Luck Chuck (2007)
Lucy in Meet Bill (2007)
Sam Lockwood in Awake (2007)
Sydney Wells in The Eye (2007)
Jane Bullard in The Love Guru (2008)
Morley Clarkson in Valentine's Day (2010)
Sartana in Machete (2010)
Andi Garcia in Little Fockers (2010)
Marissa Wilson in Spy Kids: All the Time in the World (2011)
Michelle in A.C.O.D. (2013)
Lena in Escape from Planet Earth (2013)
Nancy Callahan in Sin City: A Dame to Kill For (2014)
Kate in Some Kind of Beautiful (2014)
Gina in Mechanic: Resurrection (2016)
Quotes
"We're making the right changes. It's gonna be an amped-up version, this next one. It's gonna be faster, and it's gonna be a more intense story line that kind of references the comic a bit more Maybe we'll have the Fantastic Car,which I'm excited about."
"I wanted to stop acting. The director was like, 'It looks too real. It looks too painful. Can you be prettier when you cry? Cry pretty, Jessica.' He was like, 'Don't do that thing with your face. Just make it flat. We can CGI the tears in.' And I'm like, But there's no connection to a human being. And then it got me thinking: Am I not good enough? Are my instincts and my emotions not good enough? Do people hate them so much that they don't want me to be a person? Am I not allowed to be a person in my work? And so I just said, 'F--k it. I don't care about this business anymore."
Trivia
Community content is available under
CC-BY-SA
unless otherwise noted.