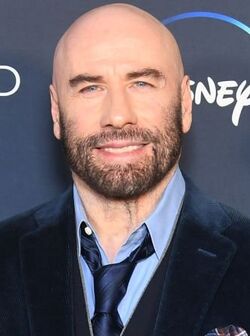 John Travolta portrayed Howard Saint in The Punisher.
Significant roles
Billy Nolan in Carrie (1976)
Tony Manero in Saturday Night Fever (1977)
Danny Zuko in Grase (1978)
Vinnie Barbarino in Welcome Back, Kotter (1975-1979)
Tony Manero in Staying Alive (1983)
James Ubriacco in Look Who's Talking (1989)
James Ubriacco in Look Who's Talking Too (1990)
James Ubriacco in Look Who's Talking Now (1993)
Vincent Vega in Pulp Fiction (1994)
Chili Palmer in Get Shorty (1995), Be Cool (2005)
Maj. Vic Deakins in Broken Arrow (1996)
Michael in Michael (1996)
Sean Archer/Castor Troy in Face/Off (1997)
Brig. Gen. Quintard in The Thin Red Line (1998)
Paul Brenner in The General's Daughter (1999)
Terl in Battlefield Earth: A Saga of the Year 3000 (2000)
Gabriel Shear in Swordfish (2001)
Austinpussy in Austin Powers in Goldmember (2002)
Hardy in Basic (2003)
Bobby Long in A Song for Bobby Long (2004)
Woody Stevens in Wild Hogs (2007)
Edna Turnblad in Hairspray (2007)
Bolt in Bolt (2008)
Ryder in The Taking of Pelham 1 2 3 (2009)
Charlie Reed in Old Dogs
Charlie Wax in From Paris With Love (2010)
Quotes
"You have a freedom in playing the villain. You can be a lot more out there, really. And there is a joy in that. There is a joy in kind of making a zone of psychoses. In this movie, when Saint gets the possibility that his wife might be cheating on him with his best friend, the paranoia sets in. From that moment on, my ability to play various things expands. There is a certain joy in that lateral movement."
"[Tom] Jane dropped the gauntlet in his very realistic style. So, I looked at some of his footage, and I thought, "Okay, they're not going over the top at all. They are playing it very real, almost like a Scorsese movie." So, I just thought I would play him like a guy that thinks he's a blueblood of sorts, kind or hoity and arrogant, and demanding."