Wiki Targeted (Entertainment)
Play Sound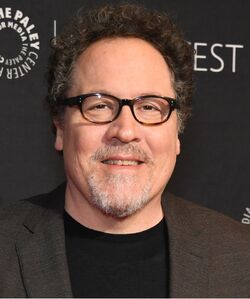 Jon Favreau is the producer and director of Iron Man and Iron Man 2 as well as the co-executive producer of The Avengers and Iron Man 3 and he is the executive producer of both Avengers: Infinity War and Avengers: Endgame.
He portrayed Franklin "Foggy" Nelson in Daredevil and Happy Hogan in Iron Man, Iron Man 2, Iron Man 3, Spider-Man: Homecoming, Avengers: Endgame and Spider-Man: Far From Home.
Significant roles
D-Bob in Rudy (1993)
Mike in Swingers (1996)
Kyle Fisher in Very Bad Things (1998)
Rocky Marciano in Rocky Marciano (1999)
Daniel Bateman in The Replacements (2000)
Ron Roth in Wimbledon (2004)
Johnny O in The Break-Up (2006)
Reilly in Opean Season (2006)
Denver in Four Christmases (2008)
Barry in I Love You, Man (2009)
Hurley in G-Force (2009)
Pre Vizsla in Star Wars: The Clone Wars (2010)
Quotes
Please add some quotes from this performer about their work in Marvel movies!
Marvel Cinematic Universe
"We've got an interesting dynamic going on. I never got a chance to have fun with the role before. Now I get to play with Robert which I never really got to do. As far as executive producing as far as directing, I feel like a proud grandfather who doesn't have to change the diapers but gets to play with the baby."
"It's a lot of fun. It allows me to maintain the relationship with the MCU, but also to do other things that are interesting that are outside of that genre and that set of characters...Especially when the filmmakers are taking care of you, and taking care of the characters and the story. If you're in good hands, it's great to come in and play in somebody else's world. That's how I started, as an actor. I really enjoy being on other people's sets, especially if I have cool things to do. It's all the fun and much less of the responsibility."
"Well, as far as directing goes, I had done two back-to-back, and that required a tremendous amount of concentration on one subject. Fortunately, I didn't lose connection with it; I just wasn't directing there. I still was executive-producing Avengers and Avengers: Age of Ultron and Iron Man 3, and I appeared in Iron Man 3. So I maintained the relationship as part of the family."
Videos