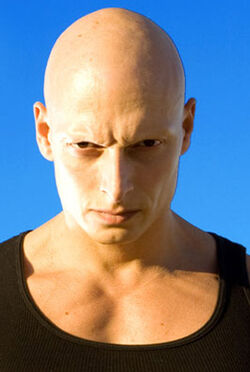 Joseph Gatt portrayed Grundroth in Thor.
Significant roles
Atlas in Jason and the Argonauts (2000)
Charon in Orpheus & Eurydice (2000)
Incubus in Killing Ariel (2008)
Luke in The Dark Path Chronicles (2008)
Quotes
"My manager, Leigh Cohen, called me saying that Randi Hiller (the casting director) had asked to see me for a role in Thor. I went in and read, and 2 days later my manager got a call saying I had booked the role! I was ecstatic. The next thing I know I'm being fitted and thrown into rehearsals!"
"I used to read comics a lot as a kid, and the Marvel ones were always my favorites, X-Men and Thor being the best! These days I don't read so much due to time constraints, but occasionally I pick up a graphic novel like Watchmen."
"Marvel are really into secrecy and protecting their scripts and characters, so there's not much I can say except that I'm playing a bad guy with a lot of action."
"My character gives him a lot of grief."
"My costume is awesome and i get some seriously mean weapons!!!!"
"The sets are huge and truly beautiful, some of the best I've ever seen. All the characters have amazing costumes. The designers have done an extraordinary job at maintaining the traditional Marvel looks all the fans are expecting, but adding their own new style."
Community content is available under
CC-BY-SA
unless otherwise noted.