Wiki Targeted (Entertainment)
Play Sound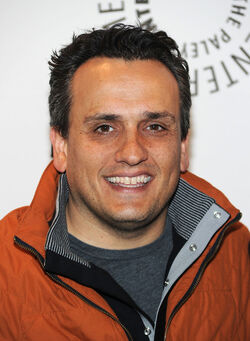 Joseph Russo is the co-director with his brother Anthony of Captain America: The Winter Soldier, Captain America: Civil War, Avengers: Infinity War and Avengers: Endgame. He directed Agent Carter episode "Bridge and Tunnel".
Quotes
"As far as we know, right now there isn't talk regarding the X-Men. I don't know if behind-the-scenes there were conversations or if there are conversations happening but we certainly haven't heard of any."
"Sony and Marvel had a relationship through Kevin [Feige] and Amy [Pascal] and through us and Amy. That's really how Spider-Man came about. It requires a certain alchemy and a very special situation for studios to share properties. There was not talk on Civil War about the X-Men."
"I think him dropping that shield is him letting go of that identity. [It's] him admitting that certainly the identity of Captain America was in conflict with the very personal choice that he was making."
"The notion of the Madbomb would have been Cap having to fight civilians and how he would he handle that. We were always trying to put him into these interesting moral conundrums because of his nature. That would have made a compelling third act because if civilians are the antagonists, how could he stop them without killing them?"
Trivia
Under the alias Gozie Agbo, Russo portrayed

Doctor Fine

in Captain America: The Winter Soldier and Theo Broussard in Captain America: Civil War.