"I lost my daughter in the 7/15 incident."
―Jace Turner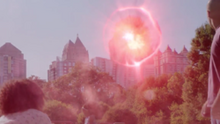 The July 15th Incident alternately known as the 7/15th Incident was an incident in Dallas, Texas in which a mutant rally turned violent with a mutant unleashing their powers killing and harming numerous bystanders. The X-Men and Brotherhood of Mutants disappeared soon after.
Event
"7/15 started out as a peaceful protest. Innocent people died on both sides"
―Marcos to Jace Turner
On July 15th in the park of Dallas, Texas a protest for mutant rights was being held however a fight apparently broke out and a mutant using their ability ended up blasting the park and killing Sentinel Services agent Jace Turners daughter Grace in the process.
Aftermath
Shortly after the incident, the X-Men and Brotherhood of Mutants disappeared. In their place the Mutant Underground was formed by John Proudstar to protect mutants from humans who wanted revenge.
Appearances
Trivia
The July 15th incident is a subtle nod to the release date of the first X-Men film which was released July 14th 2000.
The July 15th incident also shares some parallels with the September 11th terrorist attacks.
Community content is available under
CC-BY-SA
unless otherwise noted.