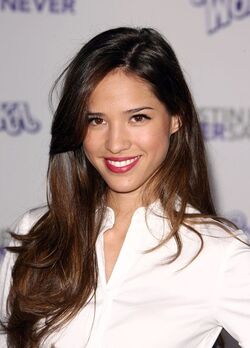 Kelsey Chow portrayed Sally Avril in The Amazing Spider-Man.
Significant roles
Gigi Silveri in One Tree Hill (2005-2009)
Mikayla Makoola in Pair of Kings (2010-2011)
Quotes
"I was in college and I was in the middle of finals and I got this call from my manager, he just put this audition on tape, I was in such a rush, I was like I dunno I have a billion things to do. And so I recorded the audition on Photobooth on my Macbook Pro and yeah and I found out, we were shooting Pair of Kings, uh this cool, very small role in the hallway speaking with Peter Parker. And it was so cool, really great experience."
"I suppose I lead him on to a certain degree."
"They gave my character the role of Sally Avril and I realized that it has more of a history in the comic books, which was really cool. I think eventually she kinda becomes a psychic. That is not explained in the movie."
"No costume for me, yeah, maybe later."
Community content is available under
CC-BY-SA
unless otherwise noted.