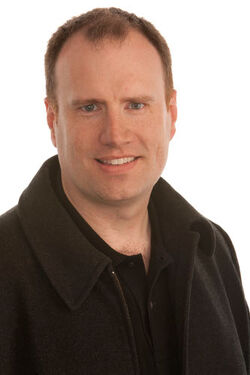 Kevin Feige is the associate producer of X-Men, co-producer of Daredevil, X2: X-Men United, Blade: Trinity and Elektra, executive produced Hulk, The Punisher, Spider-Man 2, Man-Thing, Fantastic Four, X-Men: The Last Stand, Spider-Man 3, Fantastic Four: Rise of the Silver Surfer, Punisher: War Zone, Deathlok and The Amazing Spider-Man and produced Iron Man, The Incredible Hulk, Iron Man 2, Thor, Captain America: The First Avenger, Ant-Man, The Avengers, Iron Man 3, Thor: The Dark World, Captain America: The Winter Soldier, Guardians of the Galaxy, Avengers: Age of Ultron, Ant-Man, Captain America: Civil War, Doctor Strange, Guardians of the Galaxy Vol. 2, Spider-Man: Homecoming, Thor: Ragnarok Black Panther, Avengers: Infinity War, Ant-Man and the Wasp, Captain Marvel, Avengers: Endgame, Spider-Man: Far From Home and the upcoming films Black Widow, Eternals, Shang-Chi and the Legend of the Ten Rings, Doctor Strange in the Multiverse of Madness, Thor: Love and Thunder, Guardians of the Galaxy Vol. 3, Captain Marvel 2, Black Panther II, Blade and Fantastic Four and the Disney+ series The Falcon and the Winter Soldier, Loki, WandaVision, Hawkeye and What If...?.
Community content is available under
CC-BY-SA
unless otherwise noted.