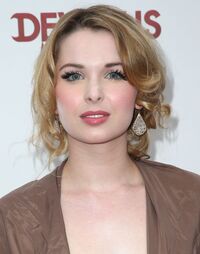 Kirsten Prout portrayed Abby Miller in Elektra.
Significant roles
Nesa in Stargate SG-1 (2003)
Amanda Bloom in Kyle XY (2008)
Lucy in The Twilight Saga: Eclipse (2010)
Quotes
"Abby was an amazing character to play first of all. I designed her after myself which is one of the best things about working on a movie set. She's an amazing girl but she seems like a normal teenager when you first meet her in the movie. Kind of an average teen living in a small area with her dad, but you realize throughout the movie that she has so many hidden talents and different aspects to her character that were so fun to create."
"I did take a break from Tae Kwon Do and then I got this part and I started training about three weeks before. I trained intensively and it was so phenomenal to work with such experts in the field. The stuntmen were absolutely amazing and I learned how to use a wire doing stunts. I learned how to use a weapon; a very, very long staff called a Bow staff . I learned how to spin that and do forms and routines with it. Combat fighting. I had a small chain and it was really challenging, I hit myself but I learned how to use it. I put so much effort into these stunts and it was such an amazing experience for me to do all my own stunts."
Community content is available under
CC-BY-SA
unless otherwise noted.