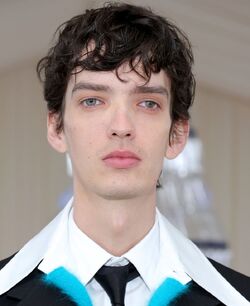 Kodi Smit-McPhee portrayed Kurt Wagner/Nightcrawler in X-Men: Apocalypse, Deadpool 2 and X-Men: Dark Phoenix.
Significant roles
Boy in The Road (2009)
Owen in Let Me In (2010)
Norman Babcock in Paranorman (2012)
Benvolio in Romeo and Juliet (2013)
Alexander in Dawn of the Planet of the Apes (2014)
Quotes
"I don't try to avoid it, and I don't try to keep it in mind. I just let things come naturally. Because it is the Marvel Universe and X-Men and there are a lot of people expecting a lot of things, I did a huge amount of research on anyone who has portrayed it and even in the comics and the cartoons and live action. I just followed Nightcrawler's story. I feel very honored and grateful to be expressing that now. I can't wait."
"I think Bryan said that he thought that it just wasn't the right time because there were already so many mutants in it and after reading the script now, I can see what they're doing. They have the ability to bring these younger characters in now, so I think a lot of the people who know the traditional origins of where this came from will be very happy."
Trivia
Community content is available under
CC-BY-SA
unless otherwise noted.