Wiki Targeted (Entertainment)
Play Sound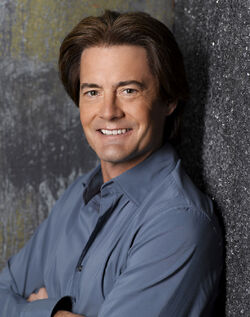 Kyle MacLachlan portrays Calvin Zabo on Agents of S.H.I.E.L.D.
Significant roles
Paul Atreides in Dune (1984)
Jeffrey Beaumont in Blue Velvet (1986)
Lloyd Gallagher in The Hidden (1987)
Trout in Don't Tell Her It's Me (1990)
Ray Manzarek in The Doors (1991)
Special Agent Dale Cooper in Twin Peaks (1990-1991)
Earl Raymond Digs in Tales from the Crypt (1991)
Special Agent Dale Cooper in Twin Peaks: Fire Walk with Me (1992)
Billy McQueen in Rich in Love (1992)
Josef K. in The Trial (1993)
Michael Smith in The Prison (1994)
Cliff Vandercave in The Flintstones (1994)
Jesse Marcel in Roswell (1994)
Zack Carey in Showgirls (1995)
Matthew in The Trigger Effect (1996)
Sean Dillon in Windsor Protocol (1996)
Vernon in One Night Stand (1997)
Sean Dillon in Thunder Point (1998)
Jack Griffin in The Invisible Man (1998)
Claudius in Hamlet 2000 (2000)
Trey MacDougal in Sex and the City (2000-2002)
Mr. Hope in Northfork (2003)
Spirit of Cary Grant in Touch of Pink (2004)
Edward Wilde in The Librarian: Quest for the Spear (2004)
Cyrus in Mysterious Island (2005)
David Swain in In Justice (2006)
Orson Hodge in Desperate Housewives (2006-2012)
Kal-El/Clark Kent/Superman in Justice League: The New Frontier (2008)
Bill Kerr in The Sisterhood of the Traveling Pants 2 (2008)
The Captain in How I Met Your Mother (2010-2014)
Mark in Peace, Love & Misunderstanding (2011)
Mayor in Portlandia (2011-2015)
Donovan Stark in Made in Jersey (2012)
Peter Sebeck in Breathe In (2013)
Josh Perotti in The Good Wife (2013-2014)
Dr. Roman Skouras in Believe (2014)
Special Agent Dale Cooper in Twin Peaks (2016)
Quotes
"They've left it open. We haven't really spoken about it, so I don't know what to expect. I think they left the door ajar for him. He's still around. He's in a happier place now, but who's to say if that's going to remain that way. I don't know. It would be fun. I would enjoy it."
"That was never so true to me as doing 'Agents of S.H.I.E.L.D.' I really like that character. I miss being able to get back into that character's skin, because it's been a couple months now. I liked his journey. I liked what they were asking me to do and what they expected me to do. Even to the point of that actual goodbye scene that I had with Chloe, or with Daisy, was real. I mean it was very hard to speak because everything just kind of kept coming up and getting locked in the throat because it was so emotional that this was the goodbye. And I knew it was the goodbye."