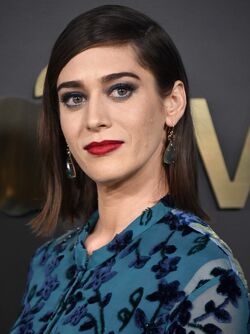 Lizzy Caplan portrayed Claire Wise in Marvel One-Shot: Item 47.
Significant roles
Tina Greer in Smallville (2001-2003)
Faith Pitt in The Pitts (2003)
Janis Ian in Mean Girls (2004)
Avery Bishop in Tru Calling (2005)
Marjee Sorelli in Related (2005-2006)
Sara Weller in Love Is the Drug (2006)
Kat Warbler in The Class (2006-2007)
Marlena Diamond in Cloverfield (2008)
Ami in My Best Friend's Girl (2008)
Amy Burley in True Blood (2008)
Marla in Crossing Over (2009)
Casey Kline in Party Down (2009-2010)
April in Hot Tub Time Machine (2010)
Juliette Flowers in The Last Rites of Ransom Pride (2010)
Sonja Ralston in 127 Hours (2010)
Casey in Children's Hospital (2010-2011)
Jolene Gillis in Queen of Country (2011)
Quotes
"I can't really, I have my own show so I will not be a regular on the Marvel S.H.I.E.L.D. show. But I'm glad people are so excited about that. I think it's a good idea... Maybe I could do some little thing."
Community content is available under
CC-BY-SA
unless otherwise noted.