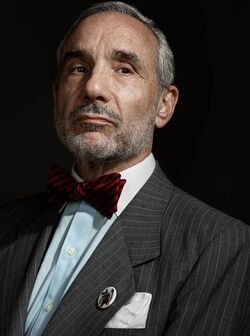 Lloyd Kaufman appeared in a cameo role as a Kyln inmate in Guardians of the Galaxy. 
Significant roles
Lloyd in The Toxic Crusaders (1991)
Gandalfini in Quest for the Egg Salad (2002)
Lloyd, the President of Troma in In Defense of Lemmings (2004)
The Doctor in PDA Massacre (2004)
Lloyd in Comic Book: The Movie (2004)
Satan in Punk Rock Holocaust (2004)
Father Lloyd in LolliLove (2004)
Uncle Lloydie in A Home for the Bullets (2005)
Lloyd in Wolfsbayne (2005)
Lloyd in Damaged Goods (2005)
Master Gai Pan in Uchuujin from Outer Space (2007)
Satan in Punk Rock Holocaust 2 (2008)
Lloyd in Un cazador de zombis (2008)
Doctor in Blood Moon (2008)
Lloyd in Dead Country (2008)
Jack Kaufman in HellBilly 58 (2009)
The Pope in Nun of That (2009)
Lloyd the Tromaville Record Producer in Heavy Mental: A Rock-n-Roll Blood Bath (2009)
President Obama in Caged Lesbos A-Go-Go (2009)
Bram Stoker in The Vampires of Zanzibar (2010)
Lloyd the Coffee Cart Guy in The Quiet Room (2010)
Uncle Lloydy in The Last Zombie Hunter (2010)
Lloyd in Not Another B Movie (2010)
Lloyd in Loki and SageKing Go to GenCon (2010)
Thomas Edison in Thong Girl 4: The Body Electric (2010)
Karl Rove in Reed '09 (2011)
God/Devil in Father's Day (2011)
Lloyd in Mary Horror (2011)
Crazy Lloyd in Slaughter Tales (2012)
Lloyd in Little Big Boy (2012)
Dennis Sloan in Jon (2012)
Uncle Lloyd in Horrorween (2012)
Lloyd in Lee (2013)
Llord Lloyd in Legend of the Red Reaper (2013)
Lloyd in Bach from the Dead (2013)
Adolph Hitler in Midnight Show (2014)
Lloyd the Troma President in Don't Let's Start (2014)
Lloyd the President of the United States in Survive (2014)
Quotes
Please add some quotes from this performer about their work in Marvel Movies!
Community content is available under
CC-BY-SA
unless otherwise noted.