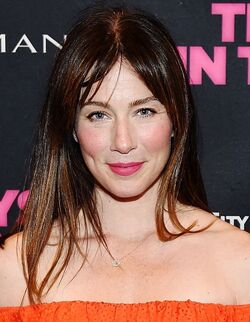 Lynn Collins portrayed Kayla Silverfox/Silver Fox in X-Men Origins: Wolverine.
Significant roles
Stephanie Plum in One for the Money (2002)
Assistant D.A. Jessica Manning in Haunted (2002)
Linda in 50 First Dates (2004)
Portia in The Merchant of Venice (2005)
R.C. in Bug (2006)
Mona in The Lake House (2006)
Lola in The Dog Problem (2006)
Mrs. Dobkins/Suicide Blonde/Fingerling's Mother in The Number 23 (2007)
Sara Harrison in Numb (2007)
Thena Panos in Nothing Is Private (2007)
Dawn Green in True Blood (2008)
Dejah Thoris in John Carter of Mars (2012)
Quotes
"We're on location, and Hugh comes up to me and says 'we've seen some of the dailies, and we just think that your outfit needs to be skimpier. We've found something for you, we've put it in your trailer, can you please try it on?' There is a gaggle of men there, and I go into my trailer and there is a silver spandex dress, and I had this panic attack. 'Oh my god, they are all standing in front of the trailer, I have to put it on!' I put it on, you can see my butt, not-fitting breasts, slit up the side with a very tender area of a woman's body just exposed! It was horrible. I opened the door, everybody's cracking up and Hugh said 'April Fool's!' and I'm standing there humiliated in a silver lame dress. Needless to say, it didn't make it into the movie."
"I didn't have time to get too nervous but he's a great kisser, a great hugger and a great actor and a great friend and a wonderful producer and I think fans are going to be so happy with this film."
"There were a lot of hotties on the set and it was so much fun working with all these guys. They were so wonderful. We became like a band of brothers and I would have to be like, hold on, I gotta do my scene and I'd have to pull my femininity back together. it was just a great time and they all trained so hard. They were constantly pumping iron. It was so much easier for me!"
Community content is available under
CC-BY-SA
unless otherwise noted.