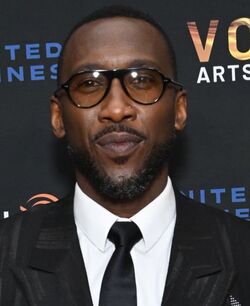 Mahershala Ali portrayed Cornell Stokes in the Netflix series Luke Cage and will portray Eric Brooks/Blade in the upcoming Blade. He also voiced Aaron Davis in Spider-Man: Into the Spider-Verse.
Significant roles
Dr. Trey Sanders in Crossing Jordan (2001-2002)
Jelani Harper in Threat Matrix (2003-2004)
Richard Tyler in The 4400 (2004-2007)
Mombasa in Predators (2010)
Kofi in The Place Beyond the Pines (2012)
Anthony King in Treme (2011-2012)
Nathan Clay in Alphas (2011-2012)
Remy Danton in House of Cards (2013-2016)
Boggs in The Hunger Games: Mockingjay - Part 1 (2014)
Boggs in The Hunger Games: Mockingjay - Part 2 (2015)
Moses in Free State of Jones (2016)
Juan in Moonlight (2016)
Jim Johnson in Hidden Figures (2016)
Cross in Roxanne Roxanne (2017)
Don Shirley in Green Book (2018)
Vector in Alita: Battle Angel (2019)
Quotes
"There are going to be so many kids out there who get to see a black man on that screen and aspire to be like him. We didn't have that. They get to be included. When I grew up, it was a lie to us that you could be anything you wanted to be. Because we knew we couldn't be president. What this generation has is President Obama — he's a superhero for us. And I think that might be hard for people to really embrace and understand."
"I would say that the audience has grown more and more savvy, and I think that the heroes themselves have pretty much stayed within a certain framework. It's the villains that have gotten more interesting. They've had to get rounded out. And you've got to understand what triggers people, what drives them."
"And then so, along with that, the worlds themselves have gotten a little bit more complicated, and somewhat of a better reflection of how we all live real life. So to me, at this point, it's about trying to make these projects gritty and have elements in them that reflect urban life in some way, shape, or form that resonate as truthful. Because people can handle it... and I think it's a positive thing, because you give yourself an opportunity to capture people who are not necessarily that invested in these types of stories. Who go, "Oh, this is actually good." I've never really been really attracted to these kind of stories, but besides the guy being able to fly, or jump around, and move things, or he's bulletproof, this is great."
Community content is available under
CC-BY-SA
unless otherwise noted.