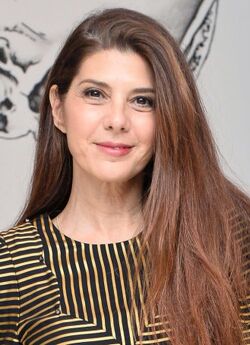 Marisa Tomei portrayed May Parker in Captain America: Civil War, Spider-Man: Homecoming, Avengers: Endgame and Spider-Man: Far From Home and will reprise the role in Spider-Man: Homecoming 3.
Significant roles
Marcy Thompson in As the World Turns (1984)
Noelle Crandall in ABC Afterschool Specials (1987)
Donna Ricci in Leg Work (1987)
Maggie Lauten in A Different World (1987-1988)
April Haynes in Parker Kane (1990)
Lisa Provolone in Oscar (1991)
Mona Lisa Vito in My Cousin Vinny (1992)
Rosie Rivers in Equinox (1992)
Mabel Normand in Chaplin (1992)
Caroline in Untamed Heart (1993)
Martha Hackett in The Paper (1994)
Faith Corvatch in Only You (1994)
Dorita Evita Perez in The Perez Family (1995)
Monica Warren in Unhook the Stars (1996)
Nina in Welcome to Sarajevo (1997)
Mattie Vines in My Own Country (1998)
Tori in Since You've Been Gone (1998)
Eve in Only Love (1998)
Rita in Slums of Beverly Hills (1998)
Ruby Weaver in Happy Accidents (2000)
Polly in The Watcher (2000)
Lola in What Women Want (2000)
Natalie Strout in In the Bedroom (2001)
Liz in Someone Like You... (2001)
Nina Capelli in Jenifer (2001)
Paula in Just a Kiss (2002)
Lexi in The Guru (2002)
Bree Blackburn in The Wild Thornberrys Movie (2002)
Sara Sloane in The Simpsons (2003)
Linda in Anger Management (2003)
Raquel Smashenburn in Game Over (2004)
Julie in Alfie (2004)
Meredith Morrison in Marilyn Hotchkiss' Ballroom Dancing & Charm School (2005)
Laura in Factotum (2005)
Danika in Danika Merrick (2006)
Angie in Rescue Me (2006)
Maggie in Wild Hogs (2007)
Gina in Before the Devil Knows You're Dead (2007)
Penelope Cloud in The Rich Inner Life of Penelope Cloud (2007)
Natalie Helgalhuzen in War, Inc. (2008)
Cassidy in The Wrestler (2008)
Donna in Amsterdam (2009)
Molly in Cyrus (2010)
Honey Foster in Salvation Boulevard (2011)
Maggie McPherson in The Lincoln Lawyer (2011)
Kate in Crazy, Stupid, Love. (2011)
Ida Horrowicz in The Ides of March (2011)
Fatima in Inescapable (2012)
Alice Simmons in Parental Guidance (2012)
Kate Hull Love Is Strange (2014)
Gwen Kolinsky in Spare Parts (2015)
Quotes
"You can imagine my horror when I was cast and I started doing the research, but then I thought "well, I'm going to go with it" and I actually made a case to go, to age me up, but no they didn't do it."
Community content is available under
CC-BY-SA
unless otherwise noted.