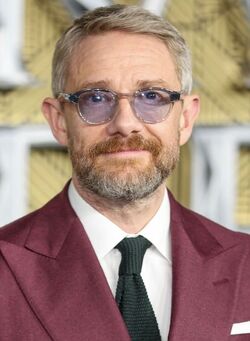 Martin Freeman portrayed Everett Ross in Captain America: Civil War and Black Panther and will reprise his role Black Panther II.
Significant roles
Tim Canterbury in The Office (2001-2003)
Ricky C in Ali G Indahouse (2002)
John in Love ACtually (2003)
Declan in Shaun of the Dead (2004)
Arthur Denyt in The Hitchhiker's Guide to the Galaxy (2005)
Met. Sergeant in Hot Fuzz (2007)
Paul Maddens in Nativity! (2009)
Dixon in Wild Target (2010)
Dr. John Watson in Sherlock (2010-present)
Simon in What's Your Number? (2011)
Bilbo Baggins in The Hobbit: An Unexpected Journey (2012)
Oliver Chamberlain in The World's End (2013)
Bilbo Baggins in The Hobbit: The Desolation of Smaug (2013)
Lester Nygaard in Fargo (2014)
Bilbo Baggins in The Hobbit: The Battle of the Five Armies (2014)
Quotes
"I've done a few days shooting on the Civil War film, I have 2 more days to go, so it's a relatively small part. Within the framework of the film, he is ambiguous. I like that you can't tell if he is a goodie or a baddie. But he works for the government and a part of his job, is to keep the superheroes and powers in check. Unless they fire me, it's a role that will carry on."
"He works for the American government, he works in conjunction with the superheroes, and certain agencies that help to tame the superheroes power I suppose. So you're not quite sure which side he's on. It looks a little bit like he's playing one game when actually he's playing another. It's the kind of character I like because it's ambiguous and because you don't know whether he's good or bad. I like that area that isn't black or white, I like the grays, because I think there's just more fun to be had in not playing one obvious line."
"I think my character will develop a bit more as I enter the Marvel world a bit more which seems to be happening."
"Apparently Paul and I are in the same film but our paths didn't cross, in fact my path didn't cross with an awful lot of people in that film. I watched it for the first time today and I didn't know anyone in it!"
Community content is available under
CC-BY-SA
unless otherwise noted.