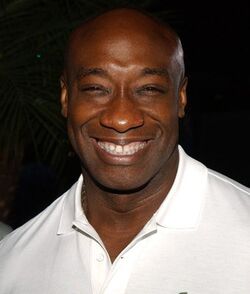 The late Michael Clarke Duncan portrayed Wilson Fisk/Kingpin in Daredevil.
Significant roles
Bear in Armageddon (1998)
John Coffey in The Green Mile (1999)
Franklin "Frankie Figs" Figueroa in The Whole Nine Yards (2000)
Attar in Planet of the Apes (2001)
Balthazar in The Scorpion King (2002)
Tug in Brother Bear (2003)
Future Wade in Kim Possible: A Sitch in Time (2003)
Mr. Phipps in D.E.B.S. (2004)
Lucius Washington in Talladega Nights: The Ballad of Ricky Bobby (2006)
The General in One Way (2006)
Mort / Phil Henderson / Patrolman in Slipstream (2007)
Spinks in American Crude (2008)
Balrog in Street Fighter: The Legend of Chun-Li (2009)
Quotes
"The fans watch movies to say, 'Hey, that's not like the comic book.' But I want them to get past that and just see the movie for what it is and see me for what I am — an actor."