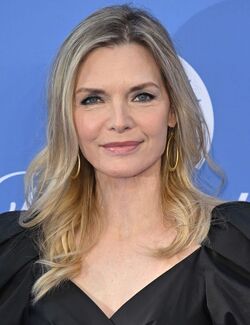 Michelle Pfeiffer portrayed Janet van Dyne/the Wasp in Ant-Man and the Wasp and Avengers: Endgame and will reprise the role in Ant-Man and the Wasp: Quantumania.
Significant roles
Stephanie Zinone in Grease 2 (1982)
Elvira Hancock in Scarface (1983)
Diana in Into the Night (1985)
Isabeau d'Anjou in Ladyhawke (1985)
Faith Healy in Sweet Liberty (1986)
Sukie Ridgemont in The Witches of Eastwick (1987)
Angela de Marco in Married to the Mob (1988)
Madame Marie de Tourvel in Dangerous Liaisons (1988)
Susie Diamond in The Fabulous Baker Boys (1989)
Katya Orlova in The Russia House (1990)
Frankie in Frankie and Johnny
Selina Kyle/Catwoman in Batman Returns (1992)
Lurene Hallett in Love Field (1992)
Countess Ellen Olenska in The Age of Innocence (1993)
Laura Alden in Wolf (1994)
LouAnne Johnson in Dangerous Minds (1995)
Melanie Parker in One Fine Day (1996)
Rose Cook Lewis in A Thousand Acres (1997)
Tzipporah in The Prince of Egypt (1998)
Titania in A Midsummer Night's Dream (1999)
Katie Jordan in The Story of Us (1999)
Claire Spencer in What Lies Beneath (2000)
Ingrid Magnussen in White Oleander (2002)
Eris in Sinbad: Legend of the Seven Seas (2003)
Rosie Hanson in I Could Never Be Your Woman (2007)
Velma Von Tussle in Hairspray (2007)
Lamia in Stardust (2007)
Léa de Lonval in Chéri (2009)
Ingrid Withers in New Year's Eve (2011)
Elizabeth Collins Stoddard in Dark Shadows (2012)
Lillian Harper in People Like Us (2012)
Maggie Blake in The Family (2013)
Woman in Mother! (2017)
Mrs. Caroline Hubbard / Linda Arden in Murder on the Orient Express (2017)
Quotes
Please add a list of quote from this performer about their work in Marvel Movies!
Trivia
Pfeiffer starred in the film I Could Never Be Your Woman with her Ant-Man and the Wasp co-star Paul Rudd
Community content is available under
CC-BY-SA
unless otherwise noted.