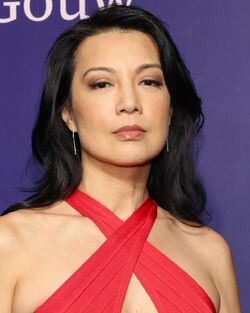 Ming-Na Wen portrayed Melinda May in the TV series Agents of S.H.I.E.L.D.. She also portrayed Agent 33 impersonating May in the second season and a Life Model Decoy of May in the fourth season.
Significant roles
Mai in Vanishing Son II (1994)
Mai in Vanishing Son IV (1994)
Chun-Li Zang in Street Fighter: The Movie (1994)
Trudy in The Single Guy (1995-1997)
Dr. Jing-Mei Chen in The E.R. (1995-2004)
Mimi Carlyle in One Night Stand (1997)
Fa Mulan in Mulan (1998)
Lisa Wu in Spawn (1998-1999)
Dr. Aki Ross in Final Fantasy: The Spirits Within (2001)
Fa Mulan in House of Mouse (2002)
Fa Mulan in Mulan II (2004)
Det. Ellen Yin in The Batman (2004-2005)
Fa Mulan in The World of Mulan (2005)
Mary Kate Olsen in Robot Chicken (2005)
Agent Lin Mei in Vanished (2006)
Linda Harris in Two and a Half Men (2007-2010)
Dr. Elisha Crowe in Prom Night (2008)
Kara Wei in Private Practice (2008)
Camile Wray in SGU Star Gate Universe Kino (2009-2011)
Camille Wray in SGU Star Gate Universe (2009-2011)
U.S. Senator Michaela Wen in Eureka (2011-2012)
Quotes
Videos
Community content is available under
CC-BY-SA
unless otherwise noted.