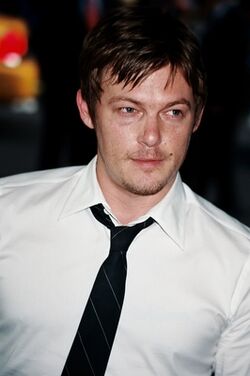 Norman Reedus portrayed Scud in Blade II and voiced Frank Castle/The Punisher in Iron Man: Rise of the Technovore.
Significant roles
Jeremy in Mimic (1997)
Harry Odum in Six Ways to Sunday (1997)
Murphy MacManus in The Boundock Saints (1999)
Van in Floating (1999)
Nick Nero in The Beatnicks (2000)
Travis in Gossip (2000)
Jonathan Cassey in Preston Tylk (2000)
Marco in Deuces Wild (2002)
Archie in Tough Luck (2003)
Robert in Until the Night (2004)
Kirby in John Carpenter's Cigarette Burns (2005)
Norman in 13 Graves (2006)
Vincent Harris in A Crime (2006)
Ray Perso in Moroz po kozhe (2007)
Swain in Hero Wanted (2008)
Mac in Red Canyon (2008)
John Rollins in The Messengers 2 (2009)
Shepard in Pandorum (2009)
Murphy in The Boondocks Saints II: All Saints Day (2009)
Dennis Burrow in Meskada (2010)
Daryl Dixon in The Walking Dead (2010-)
Henry in Night of the Templar (2010)
Quotes
Please add some quotes from this performer about their work with Marvel movies!
Community content is available under
CC-BY-SA
unless otherwise noted.