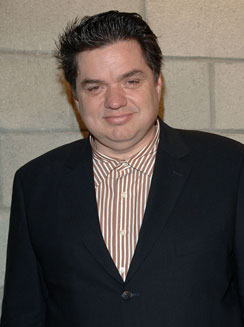 Oliver Platt portrayed The Man in Black in X-Men: First Class.
Significant roles
Randy Steckle in Flatliners (1990)
Harvey in Beethoven (1992)
Jeremy in Indecent Proposal (1993)
Porthos in The Three Musketeers (1993)
Paul Bunyan in Tall Tale (1995)
Dennis Cahill in Executive Decision (1996)
Harry Rex Vonner in A Time to Kill (1996)
Maffio Venier in Dangerous Beauty (1998)
Dennis Murphy in Bulworth (1998)
Dr. Mark Weller in Dr. Dolittle (1998)
Ben Goodrich in Simon Birch (1998)
Hector Cyr in Lake Placid (1999)
Peter Steinberg in Three to Tango (1999)
Rupert Burns in The Bicentennial Man (1999)
Fulvio Nesstra in Gun Shy (2000)
Jimmy King in Ready to Rumble (2000)
Wallace Benton in Deadline (2000-2001)
Dr. Louis Sachs in Don't Say a Word (2001)
Oliver Babish in West Wing (2001-2005)
Jim Burns in Pieces of April (2003)
Judge Jack Moran in Queens Supreme (2003-2007)
Russell Tupper in Huff (2004-2006)
Pete Van Heuten in The Ice Harvest (2005)
Malcolm Tucker in The Thick of It (2007)
Marc Jacobson in The Ten (2007)
George Steinbrenner in The Bronx Is Burning (2007)
Jeff in Martian Child (2007)
Freddy Prune in Nip/Tuck (2007-2008)
Bob Zelnick in Frost/Nixon (2008)
High Priest in Year One (2009)
Carl Anheuser in 2012 (2009)
Paul Jamison in The Big C (2010)
Quotes
"The Man In Black runs a super secret division of the CIA devoted to investigating the application of mental telepathy and paranormal power in military defense. He has long been a laughing stock of the Agency because of this. His department is known as 'Division X'."
"When Charles and Mystique become ensnared with the Agency, the Man in Black diverts them to his division with a deft bureaucratic sleight of hand. Erik soon joins them and The X-Men flourish under MIB's protection."
"The best part of the movie was working with the cast; McAvoy, Fassbender, Jenn, Rose. Working with John Dykstra, one of the seminal figures of modern special effects. Hanging with my old buddy K Bacon in London even though we didn't get to work together."
"I became a fan of X-Men through the movies."
"If I had a mutant power it would be to plant ideas in powerful people's minds."
"Grew up with Superman, Batman, Green Hornet, Asterix (yes he's a superhero!!). Love the new Batman and Iron Man flicks."