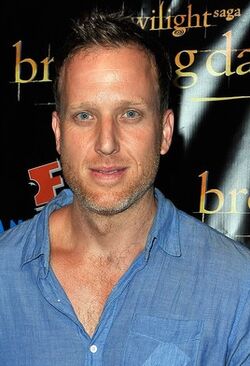 Patrick Brennan portrayed Marcus Daniels/Blackout in Agents of S.H.I.E.L.D. and Captain Marvel.
Significant roles
Night Manager at Pharmacy in 10th & Wolf (2006)
Earl in The Black Donnellys (2007)
Liam in The Twilight Saga: Breaking Dawn - Part 2 (2012)
Boss in Aldo (2014)
The Dentist in 100 Code (2015)
Zed Hastings in NCIS: New Orleans (2015-2016)
Casey in Bent (2018)
Wade in Corbin Nash (2018)
Joe in Blonde (2020)
Quotes
"What they told me is this guy, Marcus Daniels, a.k.a. Blackout, was shrouded in darkness, his soul, everything about him was shrouded in darkness until he comes across this Cello player. And the music was the only light that came into his soul, and it gave him hope and it gave him some sense of what light was. I thought to myself, oh my god, you don't even need to explain anything else. Because music, to me, is what gets me through most of the time. My kids, my wife, and music. That aspect of it totally intrigued me. I thought that was quite beautiful and very interesting, that aspect of the character."
Community content is available under
CC-BY-SA
unless otherwise noted.