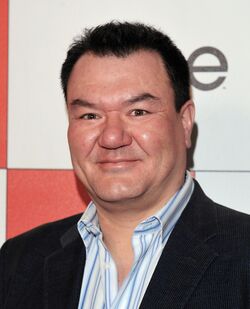 Patrick Gallagher portrayed Security Chief in Captain Marvel.
Significant roles
Jonish Kukoc in Moving Target (1996)
Lowbrow in Pale Saints (1997)
Jake Goss in Revelation (1999)
Jake Goss in Tribulation (2000)
Jake Goss in Judgement (2001)
Ed the Mover in The House Next Door (2002)
Bartender in Smallville (2003)
Awkward Davies, Able Seaman in Master and Commander: The Far Side of the World (2003)
Keith in Walking Tall (2004)
Anderson in Severed (2005)
Joe Finn in Da Vinci's City Hall (2005-2006)
Colquitt in Final Destination 3 (2006)
Attila the Hun in Night at the Museum (2006)
Joe Quinn in The Quality of Life (2008)
Chow in True Blood (2008-2009)
Leon in The Line (2009)
Attila the Hun in Night at the Museum: Battle of the Smithsonian (2009)
Ken Tanaka in Glee (2009-2010)
Sal in Baby's First Christmas (2012)
Attila the Hun in Night at the Museum: Secret of the Tomb (2014)
Pat Yomata in Pads (2015)
Jeremy Chu in iZombie (2016-2017)
Narrator in The 1980s: The Deadliest Decade (2016-2017)
Drunk Guy at Bar in Downsizing (2017)
Dr. Abbott in Siren (2018-2019)
Friar Woodruff in American Princess (2019)
Detective Garcia inIndulgence (2019)
Teddy in A Precious Life (2021)
Quotes
Please add a list of quote from this performer about their work in Marvel Movies!
Community content is available under
CC-BY-SA
unless otherwise noted.