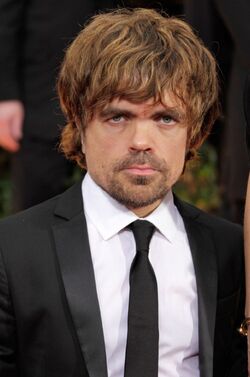 Peter Dinklage portrayed Bolivar Trask in X-Men: Days of Future Past and Eitri in Avengers: Infinity War.
Significant roles
Frank in Human Nature (2001)
Binky in 13 Moons (2002)
Finbar McBride in The Station Agent (2003)
Miles Finch in Elf (2003)
Elliot Rosen in I'm with Her (2004)
Dr. Belber in Life as We Know It (2005)
Rowlie in Lassie (2005)
Mike Kirkwood in Fortunes (2005)
Arthur Ramsey in Theshold (2005-2006)
Ben Klandis in Find Me Guilty (2006)
Sam Norton in Little Fugitive (2006)
Lemon in Penelope (2006)
Marlowe Sawyer in Nip/Tuck (2007)
Peter in Funeral Party (2007)
Dr. Simon Barsinister in Underdog (2007)
Trumpkin in The Chronicles of Narnia: Prince Caspian (2008)
Stewart in 30 Rock (2009)
Mr. Townsend in Saint John of Las Vegas (2009)
Frank in Death at a Funeral (2010)
Charlie in I Love You Too (2010)
Dwarf in The Last Rites of Ransom Pride (2010)
K.C. Munk in Pete Smalls Is Dead (2010)
Vinnie in A Little Bit of Heaven (2011)
Captain Gutt in Scrat's Continental Crack-Up: Part 2 (2011)
Tyrion Lannister in Game of Thrones (2011-2014)
Captain Gutt in Ice Age: Continental Drift (2012)
Hung in Knights of Badassdom (2013)
Quotes
"I didn't want to play the villain. He's a man of science. He's a man of invention. He actually sees what he's doing as a good thing — his ambition is definitely blind and he's quite arrogant. He's strove all his life for a certain respect and attention. He's up against Richard Nixon. He's got some hurdles."
"I wouldn't go so far as Hitler. I sympathise with the man, having played him, and I don't know how one does that with Hitler...Trask does actually believe that what he's doing is going to save the world."
"I am this guy who's four and a half feet tall, but my life doesn't constantly address it. With me playing that role, I had to think about that stuff. I'm not going to play my violin, but with my dwarfism, I'm a bit of a mutant. I can't move metal or anything, but I thought of it as self-loathing. Deep down, Trask can be quite sensitive about that aspect of himself. And sorry to go back to Hitler, but he wasn't a six foot, perfect blond Aryan. He was a short, funny looking fellow. And talk about a moustache!"
"Jen Lawrence is quite a fan of Game of Thrones. She and her friend would grill me for information, then cover their ears saying they didn't want to hear any of it! I wasn't going to tell them anything anyway, but it was fun to play around..."
Community content is available under
CC-BY-SA
unless otherwise noted.