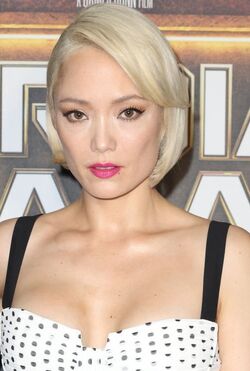 Pom Klementieff portrayed Mantis in Guardians of the Galaxy Vol. 2 and Avengers: Infinity War and will reprise the role in Avengers: Endgame and Guardians of the Galaxy Vol. 3.
Significant roles
Nastazya in Loup (2009)
Sandra in Pigalle, la nuit (2009)
Naomi in Un pure affaire (2011)
Valerie in Silhouettes (2011)
Haeng-Bok in Oldboy (2013)
Loise in Hacker's Game (2015)
Quotes
"So, she's an alien. And she's always with — at the beginning, she's spent her life with Kurt Russell's character. She was pretty lonely and then she meets the Guardians and...that's it. She has empathetic powers, so it's connected with feelings and emotions."
"There's an awkwardness and a curiosity and ... how do you say? She wants to discover new things...she was really lonely and by herself, so it's a completely new thing to meet these people and to discover new things and new emotions and a new way of sharing things...I think it's like a kid, you know? You discover things and you're curious about things and you make mistakes and you say, like, weird things or you're awkward. And I think in a way it's touching when you see someone do that. You're like, Oh! OK, you're not really adapted to this society."
"They get along. They just — there is a friendship going on and they just click, you know? You'll see, you'll see!"
"There is a funny moment, but I can't really tell. She's trying to connect with Rocket and it doesn't really work."
Community content is available under
CC-BY-SA
unless otherwise noted.