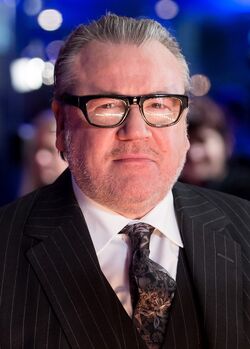 Ray Winstone portrayed Dreykov in Black Widow.
Significant roles
Carlin in Scum (1979)
Kenny Fox in Fox (1980)
Will Scarlet in Robin Hood (1984-1986)
Arnie in Minder (1984-1989)
John 'Tank' Malling in Tank Malling (1989)
Carlin in Scum (1991)
Martin Sweet in Get Back (1992-1993)
Dave in Face (1997)
Alan in Births, Marriages and Deaths (1999)
Gal in Sexy Beast (2000)
Reeves in Ripley's Game (2002)
Bors in King Arthur (2004)
Captain Stanley in The Proposition (2005)
Mr. Beaver in The Chronicles of Narnia: The Lion, the Witch and the Wardrobe (2005)
Vincent Gallagher in Vincent (2005-2006)
Sweeney Todd in Sweeney Todd (2006)
Mr. French in The Departed (2006)
Beowulf, Golden Man and Dragon in Beowulf (2007)
Moe Fitch in Fool's Gold (2008)
'Mac' George Michale in Indiana Jones and the Kingdom of the Crystal Skull (2008)
Colin Diamond in 44 Inch Chest (2009)
Bill Dury in Sex & Drugs & Rock & Roll (2010)
Jedburgh in Edge of Darkness (2010)
Ares in Percy Jackson & the Olympians: The Lightning Thief (2010)
Ronald Lynn Bagges in 13 (2010)
Bad Bill in Rango (2011)
Uncle Claude in Hugo (2011)
Abel Magwitch in Great Expectations (2011)
Gort in Snow White and the Huntsman (2012)
DI Jack Regan in The Sweeney (2012)
Terry Lord in Lords of London (2014)
Pappas in Point Break (2015)
H. G. Wells in The Nightmare Worlds of H.G. Wells (2016)
King Saul in Of Kings and Prophets (2016)
Cam Rose in Ice (2016-2018)
Danny Jones in King of Thieves (2018)
Tyson in The Queen's Corgi (2019)
Growltiger in Cats (2019)
Quotes
Please add a list of quote from this performer about their work in Marvel Movies!