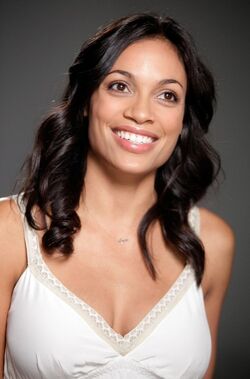 Rosario Dawson portrayed Laura Vasquez in Men in Black II and Claire Temple in Daredevil, Jessica Jones, Luke Cage, Iron Fist and The Defenders.
Significant roles
Ruby in Kids (1995)
Valerie Brown in Josie and the Pussycats (2001)
Dee in Trigger Happy (2001)
Audrey in Chelsea Walls (2001)
Dina Lake in The Adventures of Pluto Nash (2002)
Naturelle Rivera in 25th Hour (2002)
Andy Fox in Shattered Glass (2003)
Mariana in The Rundown (2003)
Roxane in Alexander (2004)
Tina Santiago in This Revolution (2005)
Gail in Sin City (2005)
Mimi Marquez in Rent (2005)
Laurie in A Guide to Recognizing Your Saints (2006)
Becky in Clerks II (2006)
Abernathy in Grindhouse (2007)
Zoe Perez in Eagle Eye (2008)
Anna Diaz in Gemini Division (2008)
Donna in Killshot (2008)
Emily Posa in Seven Souls (2008)
Velvet Von Black in The Haunted World of El Superbeasto (2009)
Persephone in Percy Jackson & The Olympians: The Lightning Thief (2010)
Connie in Unstoppable (2010)
June in Girl Walks into a Bar (2011)
Kate in Zookeeper (2011)
Mary in 10 Years (2011)
Elizabeth in Trance (2013)
June Bailey in Gimme Shelter (2013)
Mia in Parts Per Billion (2014)
Gail in Sin City: A Dame to Kill for (2014)
Nicole in The Captive (2014)
Barbara Gordon/Batgirl in The LEGO Batman Movie (2017)
Quotes
"Can't talk about it though. Not even a little bit. I can tell you that you will find strange people lurking in dark corners of your house if you keep persisting. Marvel is a beast. There's like a cyanide fill in my tooth."
"She's funny, she's wry, she's strong — she's built for that world, because she's great under pressure. She's someone — hero or not — you'd want to have in a dire situation… I really just liked her arc all the way through."
"I'm looking forward to seeing where that goes, because her eyes have been opened up to this other world — and she's crossed the line. You know, this is someone who helps people, and she's been violent now but seeing the need for it. I think there's a lot that she's having to grapple with, and I think that's what's exciting about using this show to explore street-level characters: it makes it that much more closer to us."
"That's going to raise the stakes so much more, because Matt Murdock almost behaves like the Punisher in the first season. He crosses the line quite often, so it's going to be really interesting to see how they differentiate them and where that goes."
Community content is available under
CC-BY-SA
unless otherwise noted.