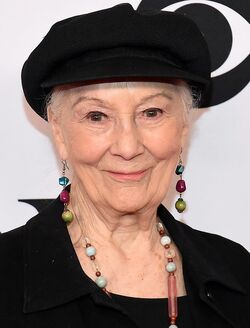 Rosemary Harris portrayed May Parker in Spider-Man, Spider-Man 2, and Spider-Man 3.
Significant roles
Mrs. Fitzherbert in Lord Brummell (1954)
Desdemona in Othello (1955)
Viola in Twelfth Night (1957)
Yelena in Uncle Vanya (1963)
Elvira Condomine in Blithe Spirit (1966)
George Sand in Notorious Woman (1974)
Julie Cavendish in The Royal Family (1977)
Minerva Chisholm in The Chisholms (1980)
Mrs. Amos Evans in Strange Interlude (1988)
Margaret Dawlish in A Midsummer's Night Dream (1994)
Player Queen in Hamlet (1996)
May Copplestone in Belonging (2004)
Nanette Hanson in Before the Devil Knows You'Re Dead (2007)
Quotes
"They're making an action figure out of me!"
"I do knock on his door a couple of times, wondering what's going on in his room. Of course, he's changing into his outfit."
"But I haven't seen all of it yet, and he hasn't spun any webs."
Community content is available under
CC-BY-SA
unless otherwise noted.