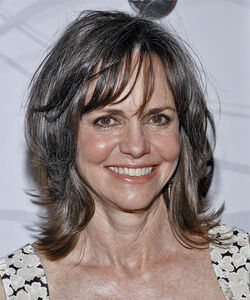 Sally Field portrayed May Parker in The Amazing Spider-Man and The Amazing Spider-Man 2.
Signifiant roles
Frances Elizabeth "Gidget" Lawrence in Gidget (1965-1966)
Sister Bertrille in The Flying Nunn (1967-1970)
Sally Burton in The Girl with Something Extra (1973-1974)
Carrie in Smokey and the Bandit (1977)
Norma Rae in Norma Rae (1979)
Celeste Whitman in Beyond the Poseidon Adventure (1979)
Carrie in Smokey and the Bandit II (1980)
Mary Follet in All the Way Home (1981)
Edna Spalding in Places in the Heart (1984)
Emma Moriarty in Murphy's Romance (1985)
Lilah Krystick in Punchline (1988)
M'Lynn Eatenton in Steel Magnolias (1989)
Celeste Talbert in Soapdish (1991)
Sassy in Homeward Bound: The Incredible Journey (1993)
Miranda Hillard in Mrs. Doubtfire (1993)
Mrs. Gump in Forrest Gump (1994)
Karen McCann in Eye for an Eye (1996)
Sassy in Homeward Bound II: Lost in San Francisco (1996)
Mama Lil in Where the Heart Is (2000)
Aunt Betsey Trotwood in David Copperfield (2000)
Maggie Wyczenski in E.R. (2000-2006)
Valdine Wingfield in Say It Isn't So (2001)
Rep. Victoria Rudd in Legally Blonde 2: Red, White & Blonde (2003)
Anita Bergman in Two Weeks (2006)
Nora Walker in Brothers & Sisters (2006-2011)
Nora Walker in Brothers & Sisters: Family Album (2007)
Quotes
"Not especially my kind of movie. But my friend Laura Ziskin was the producer, and we knew it would be her last film. And she my first producing partner and she was spectacular."
"It didn't take a great deal of thought. It's really hard to find a three-dimensional character in it, and you work it as much as you can, but you can't put ten pounds of shit in a five-pound bag."
Community content is available under
CC-BY-SA
unless otherwise noted.