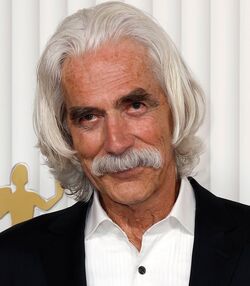 Sam Elliott portrayed General Ross in 2003's Hulk and the Caretaker in Ghost Rider.
Significant roles
Doug Robert in Mission: Impossible (1970-1971)
Evel Knievel in Evel Knievel (1974)
Pete Danner in The Legacy (1978)
Tell Sackett in The Sacketts (1979)
Travis McGee in Travis McGee (1983)
Sam Houston in Houston: The Legend of Texas (1986)
Richie Marks in Shakedown (1988)
Wade Garrett in Road House (1989)
Conn Conagher in Conagher (1991)
John Buford in Gettysburg (1993)
Virgil Earp in Tombstone (1993)
Wild Bill Hickok in Buffalo Girls (1995)
The Stranger in The Big Lebowski (1998)
Kermit Newman in The Contender (2000)
Sgt. Maj. Basil Plumlev in We Were Soldiers (2002)
Lorne Lutch in Thank You For Smoking (2005)
Ben the Cow in Barnyard (2006)
Lee Scoresby in The Golden Compass (2007)
Clay Wheeler in Did You Hear About the Morgans? (2009)
Quotes
"I'm blessed in this film (We Were Soldiers), having an opportunity tohang around a lot of generals--real generals, That's the character I'm playing in Hulk. He's afour-star general. Although I'm out doing service to this movie, I've still gotthat in the back of my head."
"I actually went to to the comics for inspiration. When you get a job, it changes a lot of things. You do things that you might normally not do in your normal life, real life. It was like the only resource, beyond Ang, and beyond the material in the beginning. When I first got got connected with this thing there was no material for me to look at. I had my initial meeting with Ang and left there without a script. I hadn't had read the script before I had the meeting. He said, "There's a script that I can give you, but I'd rather you wait because one of the things that we're working on that needs more work than anything else happens to be your character, Ross' character." So I said, "I'm gonna wait." The truth of it is that I would have come and done this without a script, to work with Ang."