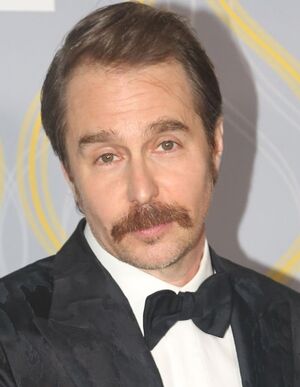 Sam Rockwell portrayed Justin Hammer in Iron Man 2 and Marvel One-Shot: All Hail the King.
Significant roles
Henry Collins in Happy Hell Night (1992)
One-eye Jimmy in The Search for One-eye Jimmy (1994)
Rob in Glory Daze (1995)
The Kid in Box of Moon Light (1996)
Trent in Lawn Dogs (1997)
Jerry in Jerry and Tom (1998)
Francis Flute in A Midsummer's Night Dream (1999)
"Wild Bill" Wharton in The Green Mile (1999)
Guy Fleegman in Galaxy Ques (1999)
Eric Knox in Charlie's Angels (2000)
Jimmy Silk in Heist (2001)
Chuck Barris in Confessions of a Dangerous Mind (2002)
Frank Mercer in Matchstick Men (2003)
Zaphod Beeblebrox in The Hitchhiker's Guide to the Galaxy (2005)
The Bat-man in Robin's Big Date (2005)
Charley Ford in The Assassination of Jesse James by the Coward Robert Ford (2007)
James Reston, Jr. in Frost/Nixon (2008)
Darwin in G-Force (2009)
Doc in Cowboys & Aliens (2011)
Billy Bickle in Seven Psychopaths (2012)
Owen in The Way, Way Back (2013)
John Moon in A Single Shot (2013)
Eric Bowen in Poltergeist (2015)
Jason Dixon in Three Billboards Outside Ebbing, Missouri (2017)
Quotes
Trivia
Sam is dating his Iron Man 2 co-star Leslie Bibb. They have been dating since 2007.
References
Community content is available under
CC-BY-SA
unless otherwise noted.