WB Has No Direction for Superman | The Loop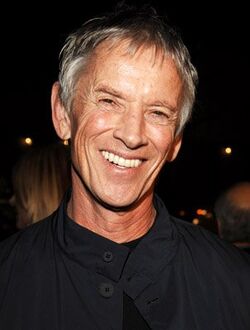 Scott Glenn portrays Stick in the Netflix series Daredevil and The Defenders.
Significant roles
Tad Jacks in The Baby Maker (1970)
Long John in Angels Hard as They Come (1971)
Pfc. Glenn Kelly in Nashville (1975)
Captain Richard M. Colby in Apocalypse Now (1979)
Alan Shepard in The Right Stuff (1983)
Captain Bart Mancuso in The Hunt for Red October (1990)
Jack Crawford in The Silence of the Lambs (1991)
John "Axe" Adcox in Backdraft (1991)
Stephen Broderick in Slaughter of the Innocents (1993)
Tony Gartner in Courage Under Fire (1996)
Agent Bill Burton in Absolute Power (1997)
1SG Robert E. Lee in Buffalo Soldiers (2001)
Joe Johnson in Homeland Security (2004)
Earl "Red" Blaik in Code Breakers (2005)
Ezra Kramer in The Bourne Ultimatum (2007)
The Wise Man, The General and The Bus Driver in Sucker Punch (2011)
Ezra Kramer in The Bourne Legacy (2012)
Kevin Garvey Sr in The Leftovers (2014)
Quotes
"It's really, really exciting. It's kinda daunting because I've been telling my wife for the last eight or nine years, 'how come they're always having me be this old guy that sits behind a desk and sends the kids out to have all this fun?' And for Daredevil, I loved it because…I didn't know that world at all. I took it seriously and I realized that I had to play this character not tongue and cheek but seriously and I had to deal with something that I've never had to deal with as an actor in my life, which is being blind. And all of a sudden I'm kind of playing a character like Zatoichi, the blind swordsman. I'm a blind assassin and a martial arts master. So it meant aside from doing what you normally have to do as an actor such as making real emotional connections with the people you're working with to move the story along and things like that, it also meant that you would have to be doing a ton of martial arts. I mean real Hong Kong Bruce Lee martial arts…blind."
"I don't want to get into too much of the show but I was going to have to deal with that stuff for the first time in my life, so that was exciting, demanding and fun."
"It was up to Marvel to decide which superhero they wanted to start with. I know they wanted one of the first three or four to be a woman, but they knew they wanted to start with Daredevil because they thought it had been given such a disservice when it was made into a feature."
"So, all it took for me was to read the script of this one episode that I'm in – Episode 7 – and I just totally loved the character."
"I'm going to watch Episode 1, and then skip right to Episode 7 because I don't know whether I pulled it off or not."
Community content is available under
CC-BY-SA
unless otherwise noted.