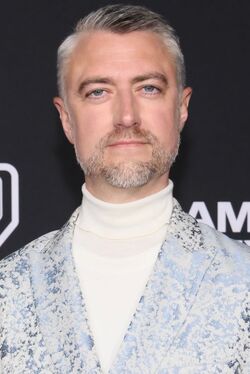 Sean Gunn portrayed Kraglin Obfonteri in Guardians of the Galaxy and Guardians of the Galaxy Vol. 2. He also did the motion capture for Thanos in Guardians of the Galaxy and Rocket in the films Guardians of the Galaxy, Guardians of the Galaxy Vol. 2, Avengers: Infinity War and Avengers: Endgame .
Significant roles
Mars in Angel (1999-2000)
Lenny in Brutally Normal (2000)
Kirk Gleason in Gilmore Girls (2000-2007)
Joey "Fuzz" Fucetti in Going to California (2001)
Phil in Andy Richter Controls the Universe (2002-2003)
Rooster in October Road (2007-2008)
Peppermint Patty in PG Porn (2008-2009)
Toby in Super (2010)
George in The Giant Mechanical Man (2012)
Sebastian in Bunheads (2012-2013)
Marty Espenscheid in The Belko Experiment (2016)
Quotes
"I am very proud to say that I will be returning as Kraglin, the first mate of Yondu, one of the Ravagers. I'm very excited to film. I played Rocket on-set as well as a few other characters like Thanos and a Sakaaran guard, and so on. Essentially I helped with the actors, giving them a performance to work off of and help the visual effects team when they do the reference work. I will be doing some more of that in the sequel."
"I improvised the line 'Here we are a bunch of jackasses standing in a circle' which I'm very proud of and which is the only line I improvised that, so I'm glad that people like it as much as they do."
Community content is available under
CC-BY-SA
unless otherwise noted.