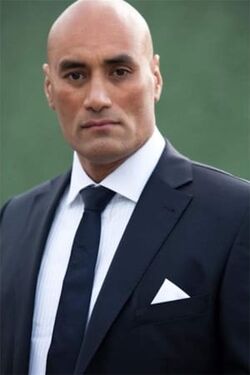 Shane Rangi portrayed Hajo in Thor: Ragnarok. He was part of the visual effects crew on Iron Man 3. He was a motion capture stunt performer in X-Men: The Last Stand and Iron Man 3 and performed stunts in The Avengers, The Wolverine and Thor: Ragnarok.
Significant roles
Witch-King in The Lord of the Rings: The Fellowship of the Ring (2001)
Harad Leader in The Lord of the Rings: The Return of the King (2003)
Native in King Kong (2005)
General Otmin in The Chronicles of Narnia: The Lion, the Witch and the Wardrobe (2005)
Asterius and Wer-Wolf in The Chronicles of Narnia: Prince Caspian (2008)
Tavros in The Chronicles of Narnia: The Voyage of the Dawn Treader (2010)
Dagan in Spartacus: Gods of the Arena (2011)
Goblin and Orc Hunter in The Hobbit: An Unexpected Journey (2012)
Laketown Refugee in The Hobbit: The Battle of the Five Armies (2014)
Sonny's Crew #1 in Pacific Rim: Uprising (2018)
Burly Salvageman in Mortal Engines (2018)
Mataora in Colonial Combat (2019)
Quotes
Please add a list of quote from this performer about their work in Marvel Movies!
Community content is available under
CC-BY-SA
unless otherwise noted.