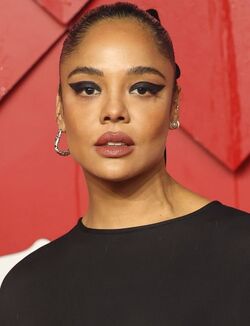 Tessa Thompson portrayed Valkyrie in Thor: Ragnarok and Avengers: Endgame and Molly Wright/Agent M in Men in Black: International.
Significant roles
Jackie Cook in Veronica Mars (2005-2006)
Scarlet in When a Stranger Calls (2006)
Dana in Make It Happen (2008)
Waitress in The Human Contract (2008)
Kari Peterson in Mississippi Damned (2009)
Rebecca Taylor in Heroes (2009)
Claire in Everyday Black Man (2010)
Blue in Blue Belle (2010)
Liz in Exquisite Corpse (2010)
Nyla Adrose in For Colored Girls (2010)
Lauren Washington in Detroit 1-8-7 (2010-2011)
Sasha Doran in 666 Park Avenue (2012-2013)
Sara Freeman in Copper (2012-2013)
Samantha White in Dear White People (2014)
Diane Nash in Selma (2014)
Bianca in Creed (2015)
Charlotte Hale in Westworld (2016-)
Josie Radek in Annihilation (2018)
Bianca in Creed II (2018)
Lady in Lady and the Tramp (2019)
Quotes
"She is originally [Asgardian]. When we meet her and she meets Thor in Sakaar, I can't really say much about what she's doing there but she does have a relationship with Jeff Goldblum's character — it's a business relationship. She finds Thor and brings Thor to the Grandmaster thinking he might be of interest. The rest is a secret."
"That was sort of a Taika remix. Marvel was really great, like "Do what you will with these characters." In Ragnarok, you'll see a Banner like you've never seen before. You'll see Thor with the short hair, which happens when he becomes this gladiator for the Grandmaster. But you really do get to see these established characters in a new way. Obviously if they were really dedicated to the source material they would not have cast me. As far as the armor, she's such a bad ass that she doesn't need a lot of metal to protect her. I'm essentially in leather. I have some really cool, like, chain mail like basically with my arms I can sort of shield and use them as weapons as well. I wield two daggers, which are sort of attached to me. And I also have a very special sword."
"You never know where people will pop up. In the next phase, the hope is to find ways to interweave all these characters, and certainly with Infinity War, those are the culmination of a lot of work since Iron Man. She's part of the tapestry now. For me, it's exciting to join at a time with young actors like Brie Larson and Chadwick Boseman and Michael B. Jordan. We're all hopefully going to meet in one of these movies."
Community content is available under
CC-BY-SA
unless otherwise noted.