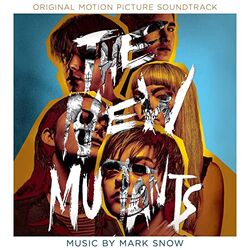 The New Mutants is the soundtrack of the 2020 film of the same name and comprised of music composed by Mark Snow.
Track list
No Way Out
Smiling Man
Rahne Dome
The Bear Advances
Down from the Tower
Red Snow
Rahne's Story
Girl Fight
Lie Detector
So Am I
Explaining to Rahne
The Grand Tour
Regrouping
Girls Chat / Essex Orders
Dani Goes Under
Nervous Shower / Meditation
Rahne's Confessional
Obedience
Fighting Back
Dome Pt. 2
Too Hot
Dani Begins Testing
Wake Up in Hospital
Hey Yogi
Not So Solitary
Dr. Reyes Knows Best/Fighting the Bear
Nice Bear
Calling All Mutants
Victory
Control / Time to Sleep
Community content is available under
CC-BY-SA
unless otherwise noted.