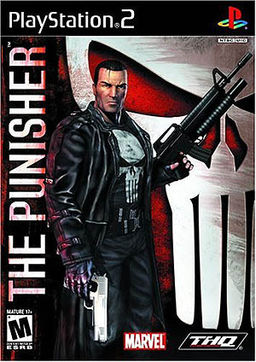 The Punisher is a 2005 action game. The game's story is a loose mixture of the 2004 film, as well as the 2000 mini-series, Welcome Back, Frank. The game was developed by Volition, Inc.
Platforms available
Mobile
PC
Playstation 2
Xbox
Voice Cast
Darryl Kurylo: Jigsaw
Michael Gough: Martin Soap, Russian Mercenary, Yakuza Mercenary
Lieutenant Molly Von Richtofen
General Kreigkopf
Takagi
Bushwacker
Ma Gnucci
Nika Futterman: Black Widow
Nick Fury
Steven Blum: Matt Murdock, Bullseye
Iron Man
David Sobolov: The Kingpin
Enemies
General Kreigkopf‡
Ma Gnucci‡
Bushwacker‡
Bullseye‡
‡ The character is a Boss.
External links
Community content is available under
CC-BY-SA
unless otherwise noted.