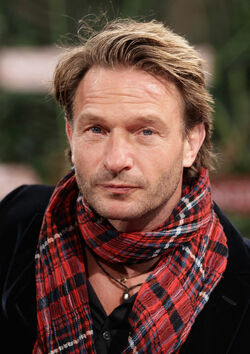 Thomas Kretschmann portrayed Eli Damaskinos in Blade II and Baron Wolfgang von Strucker in Captain America: The Winter Soldier and Avengers: Age of Ultron.
Significant roles
Lt. Hans von Witzland in Stalingrad (1993)
Alfredo Grossi in La sindrome di Stendhal (1996)
Thagnar in Prince Valiant (1997)
Nick Blanchard in Total Recall 2070 (1999)
King Ahasuerus in Esther (1999)
Gunther Wassner in U-571 (2000)
Vanni delle Rondini in I cavalieri che fecero l'impresa (2001)
Cap. Wilm Hosenfeld in The Pianist (2002)
Eli Damaskinos in Blade II (2002)
Max in 24 (2003)
Alcide Nikopol in Imortel (ad vitam) (2004)
Hermann Fegelein in Der Untergang (2004)
Major Cain in Resident Evil: Apocalypse (2004)
Pope John Paul II in Have No Fear: The Life of Pope John Paul II (2005)
Capt. Englehorn in King Kong (2005)
Mr. Smith in Next (2007)
Adolf Eichmann in Eichmann (2007)
Cross in Wanted (2008)
Major Otto Ernst Remer in Valkyrie (2008)
Quotes
"That's great of course. I have a multi-picture deal which means I will not only appear in the 2nd part, but they're planning with me for a longer period of time. But I don't know details yet, they're keeping their cards close to their chest - top secret!"
"Oh yes, I was nervous! I was overprepared; then on the set I went up to Joss Whedon, who passes for a genius, and said 'this is my first day, this is huge, please have patience with me, I'm a bit nervous.' "
Community content is available under
CC-BY-SA
unless otherwise noted.