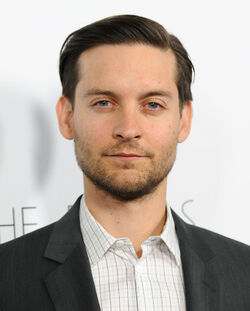 Tobey Maguire portrayed Peter Parker/Spider-Man in Spider-Man, Spider-Man 2, and Spider-Man 3.
Significant roles
Harvey Stern in Deconstructing Harry (1997)
David in Pleasantville (1998)
Homer Wells in The Cide House Rules (1999)
James Leer in Wonder Boys (2000)
Lou in "Cats & Dogs" (2001)
Red Pollard in Seabiscuit (2003)
Capt. Sam Cahill in Brothers (2009)
Jack Greenberg in The Crusaders (2011)
Quotes
"I felt like I was an outsider. I think what happened to me made me develop this street sense of watching people and working out what made them tick, wondering whether I could trust them or not. I went to a lot of schools along the coast in California, made few friends and stayed with aunts, uncles and grandparents while my folks tried to make ends meet. It was tough. We had no money."
"I think our thing was a little bit different because movies hadn't been doing the sort of opening-weekend business that's fairly common—even expected—today. The first Harry Potter came out about six months before us and it was this phenom- enon from Day one. it was so wild because it was a new thing at that moment—and i'm not saying that hasn't happened in movie history, but at the time that was a big jump. and then that happened with us. People didn't anticipate [2002's Spider- Man] to be like that. Leading up to it you start to get reactions and people tell you, you know, what the tracking is and what range your opening weekend box office is likely to be. but for me it was kind of unexpected. So much shifted in my life the weekend the movie came out. it was shocking."
Trivia
External links