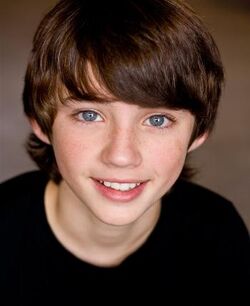 Troye Sivan portrayed Young Logan in X-Men Origins: Wolverine.
Significant roles
John "Spud" Milton in Spud (2010)
Quotes
"I was actually found by my manager on YouTube, on a video of me singing. He later recieved the Wolverine audition and sent it over to me. I filmed it with my mom in our house, sent it via e-mail, and it all just worked out, I got the part. Of course I had heard of Wolverine! Not only that, but I was a huge fan of the X-Men trilogy in general."
"There are so many opinions of Wolverine's past and the comic book is one of them, and I think this film takes a snippet out of each."
"At first it was pretty scary, and they were really sharp! I was worried about stabbing someone. But more than anything, it was awesome! I have always wanted a super power, and finally I got one."
"Logan is a sick child, and I think more than anything is confused about what is happening to him. But it took a particular event to rise the berserker rage and, for the first time, cause Logan's claws to come out."
"I saw Hugh walking around the sets, eating lunch etc. but we didn't talk about the character much, just a few casual conversations here and there."
"Having Gavin as a director was really one of the best things that could have happened to me. Him and I are both ex-South Africans, and we instantly clicked. He was so creative, created a very relaxed vibe on set, and made us all extremely comfortable. In my opinion, his approach to the characters was brilliant, giving all of the characters and the film in general a very real feeling."
Community content is available under
CC-BY-SA
unless otherwise noted.