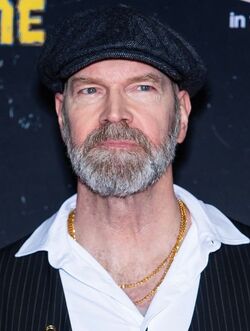 Tyler Mane portrayed Victor Creed/Sabretooth in X-Men.
Significant roles
Nitron in Clash of the Champions IX: New York Knockout (1989)
Big Sky in WCW Saturday Night (1992)
Mr. Mayhem in Party of Five (1999)
Adolf Manson in Son of the Beach (2000-2002)
Bondi in Joe Dirt (2001)
Thorn in Black Mask 2: City of Masks (2002)
Ajax in Troy (2004)
Antaeus in Hercules (2005)
Dirk in Monk (2006)
Michael Myers in Halloween (2007)
Michael Myers in Halloween II (2009)
Jack in Gunless (2010)
Quotes
"I have no idea what they're planning. The actors are the last to know and hear about that. Who knows what the writers have cooked up. We'll see."
"Yeah, the whole backstory about possibly being Wolverine's father, and Sabretooth having adamantium. I know. I researched it when I did X-Men in 2000."
"I would love to. I would love to bring Sabretooth back to the screen. There's just so much more that I'd love to do with him."
External links
Community content is available under
CC-BY-SA
unless otherwise noted.