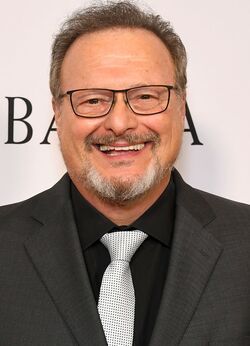 Wayne Knight portrays Linus Lieberman/Microchip in Punisher: War Zone.
Significant roles
Gang member in The Wanderers (1979)
Bill Wright in The Sex O'Clock News (1984)
Stan in Dirty Dancing (1987)
Fraternity Pisser in Everybody's All-American (1988)
Numa Bertel in JFK (1991)
John Correlli in Basic Instinct (1992)
Newman in Seinfeld (1992-1998)
Dennis Nedry in Jurassic Park (1993)
Stan Podolak in Space Jam (1996)
Office Don Orville in 3rd Rock from the Sun (1996-2001)
Bob Lachman in For Richer or Poorer (1997)
Igor in Toonsylvania (1998)
Microwave in The Brave Little Toaster Goes to Mars (1998)
Tantor in Tarzan (1999)
Zoot in My Favorite Martian (1999)
Al in Toy Story 2 (1999)
Zack Mallozzi in Rat Race (2001)
Electrician in Cheaper by the Dozen (2003)
Mr. Bilk in Catscratch (2005)
Himself in Thank God You're Here (2007)
Andrew Batten in Woke Up Dead (2009)
Egghead in The Super Hero Squad Show (2009-2011)
Jimmy Wallpert III in Bones (2010)
Rick in Hot in Cleveland (2010-2011)
Brian Friedkin in Torchwood (2011)
Albert in Excuse Me for Living (2011)
Haskell Lutz in The Exes (2011-2012)
Quotes
"My research on Microchip gives you kind of different aspects of him: I didn't know which Micro Chip we were talking about. Are we talking about the one who uses the heroin trade to supply his weaponry, or are we talking about the father of Louis? So I had to kind of make an amalgam for me, of who he was, within the context of this film, within the context of the kind of Max universe that we were doing the Punisher in. I saw him as being kind of being the supply sergeant for Frank's one man army. That somebody who keeps it moving and tries to keep Frank sane and connected somehow to the earth. That's basically my task"
"You know, I think that pretty much comes with me whether I want it to or not. So I think that Micro Chip is kind of like the grave digger in Hamlet. You need to have leavening in order to feel the impact of the violence and the drama that's happening. So every now and then you come up for a little breath of air and then you dive back in. That's kind of what Micro Chip does."
Community content is available under
CC-BY-SA
unless otherwise noted.