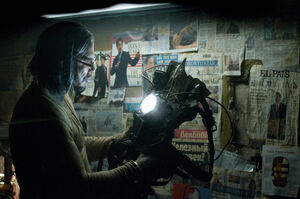 Whiplash Mark II was an upgraded, far more advanced armour created by Ivan Vanko. The improved telescoping whips featured a heavier construction capable of handling the distribution of increased electrical energy. It was also the first armor to be be equipped with Chobham, a composite armor adapted from the Hammer Industries suits and drones. In addition to protection from regular ordinance, it protected from the heat and electrical discharge of the suit's whips.
Previous: Whiplash armor (Mark I)
Community content is available under
CC-BY-SA
unless otherwise noted.