Wiki Targeted (Entertainment)
Play Sound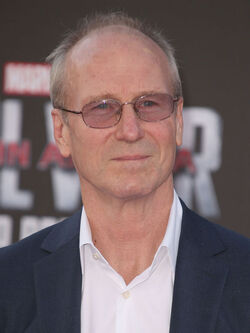 William Hurt portrayed Thaddeus "Thunderbolt" Ross in The Incredible Hulk, The Consultant, Captain America: Civil War, Avengers: Infinity War and Avengers: Endgame and will reprise his role in the upcoming Black Widow.
Significant roles
Walt McCandless in Into the Wild (2007)
Stan in Syriana (2005)
Richie Cusack in A History of Violence (2005) (Oscar Nominated)
Leto Atreides I in Dune (2000)
Rochester in Jane Eyre (1996)
Prof. John Robinson in Lost in Space (1998)
Harlan James in I Love You to Death (1990)
Tom Grunick in Broadcast News (1987) (Oscar Nominated)
James Leeds in Children of a Lesser God (1986) (Oscar Nominated)
Luis Molina in Kiss of the Spider Woman (1985) (Academy Award for Best Actor)
Quotes
"I have a scene with Iron Man, with Robert Downey Jr., It's a funky scene."
"I don't know how it'll work, I know it's weird [to work with a character from another movie], and to know it's a device. We did something; I don't know what that's going to be like [to watch]."
[About his scene with Robert Downey Jr.] "We improv'd that. The entire scene had no lines written down. We did improv for that entire scene. We actually both had more of a script because of that and a feeling of more invention because of that. So we could actually go, 'okay, who do I think my character is…what would he say next. I haven't a clue, let's have a shot at it."
"Ross is humiliated by Hulk's conscience: he actually sees and recognizes that it's more developed than his own, even though he's a patriot and a warrior for his country. He's sacrificed much for that purpose, but at the expense at times of his humanity — which he occasionally recovers."
"Well first of all it was delightful to get that call. And second of all... how am I going to catch this train? Or how am I going to catch this 747? Because it can't land for you. It's got to keep going."
"I loved playing Ross the first time because I was able to try and create an ego as big as the monster he was chasing. And one that was as warped too. This time he's different because it's a different style. It's a more modernized style. And what they've done is they've taken a character who was the Ross from the older film and made a new version. This is a much newer Ross. A much different Ross. And I liked that a lot. I haven't had a lot of time to understand it, but I'm doing the best I can. And they haven't fired me yet."
"It's very very different from The Incredible Hulk, and the style is completely modernized. So, I'm not playing the graphic novel version of Thaddeus Ross. I'm playing... a better suit. I don't know, I wouldn't mind feeling like I had that much power, but I created Thaddeus originally as an ego the same size as the monsters. With the same degree of messed up-ness. Yeah, I'd love to have a shot at it?"
Community content is available under
CC-BY-SA
unless otherwise noted.