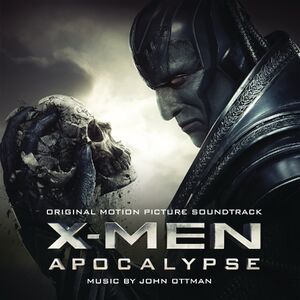 X-Men: Apocalypse is the soundtrack of the 2016 film of the same name composed by John Ottman released on May 20, 2016 by Sony Classical Records.
Track Listing
Apocalypse
The Transference
Pyramid Collapse / Main Titles
Eric's New Life
Just a Dream
Moira's Discovery / Apocalypse Awakes
Shattered Life
Going Grey / Who the F are You?
Eric's Rebirth
Contacting Eric / The Answer!
Beethoven Havok
You Can See
New Pyramid
Recruiting Psylocke
Split them Up!
A Piece of his Past
The Magneto Effect
Jet Memories
The Message / Some Kind of Weapon
Great Hero / You Betray Me
Like a Fire
What Beach?
Rebuilding / Cuffed / Goodbye Old Friend
You're X-Men / End Titles
Rest Young Child (Vocal Version)
Community content is available under
CC-BY-SA
unless otherwise noted.